Oak Creek flows through a beautiful canyon along Highway 89A between Flagstaff and Sedona and is a popular destination for recreation. The creek is a tributary to the Verde River, which feeds into the Salt River, itself providing water to millions of people living in and around Phoenix. Oak Creek is one of the few perennial streams in Arizona's high desert region, and provides a vital resource to people and wildlife.
In its 2006/2008 Clean Water Act 305(b) Assessment Report, the Arizona Department of Environmental Quality (ADEQ) listed Oak Creek as impaired for exceeding the Escherichia coliform (E.coli) water quality standard based on water quality data. Previous studies identified recreational users, septic systems, wildlife and domesticated animals as potential sources of fecal E.coli contamination.
In 2019, the U.S. Forest Service announced a decision to implement their Oak Creek Restoration Action Plan (OCWRAP). The OCWRAP listed several project objectives that would improve the health of the Oak Creek Watershed and improve water quality, such as roadside pullout closures and social trail rehabilitation along the 89A in Oak Creek Canyon and new pet waste stations across the watershed.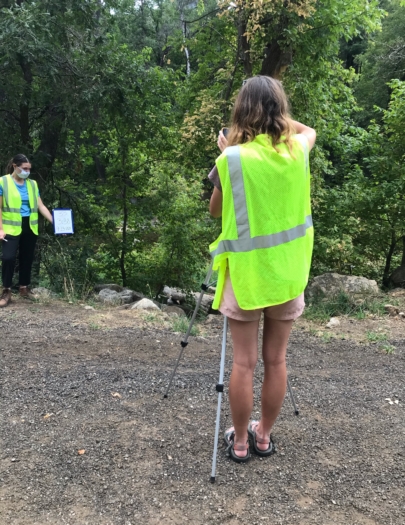 Watershed Improvement Projects
Through collaborative partnerships, ADEQ and Oak Creek Watershed Council is working on the following projects to improve 50+ impaired stream miles of Oak Creek:
Closure and rehabilitation of more than 120 informal social trails, which previously caused soil disturbances and erosion, bringing E.coli into the creek. Oak Creek Watershed Council is using repeat photo-point monitoring to understand rehabilitation treatment effectiveness. Moreover, OCWC is working with volunteers to monitor trash accumulation differences at these monitoring sites overtime.
Installation of pet waste stations along established trails to encourage cleaning up after pets and keeping dog waste out of the creek.
Support of litter clean-up events, which have already removed thousands of pounds of trash that would have otherwise attracted wildlife and along with it, their fecal waste.
Additional improvement projects that ADEQ has implemented in Oak Creek Canyon:
Installation of barriers to reduce un-permitted parking along Highway 89A to minimize social trail use, as well as improve visitor safety.
Construction of a fence at Slide Rock State Park to prevent un-permitted visitation, reduce potential impacts on water quality due to crowds and improve visitor safety.
Key project partners include:
U.S. Forest Service | View Website >
Arizona State Parks & Trails | View Website >
National Forest Foundation | View Website >
Arizona Conservation Corps | View Website >